The Program for Anxiety and Traumatic Stress Studies (PATSS) is led by Dr. JoAnn Difede, an expert in the field of anxiety disorders and post-traumatic stress disorder (PTSD). Dr. Difede has worked in a major urban academic medical center for the past 25 years collaborating with medical staff throughout the institution on studies in a range of medical populations (e.g., pulmonary, acute trauma, burns, cancer, pediatrics) and thus has worked with a broad range of health care workers. She has also consulted with health care worker staff following a range of work-related critical incidents.
At the beginning of the COVID-19 pandemic, Dr. Difede and colleagues developed and led the CopeWeillCornell Liaison program, a team-based initiative to provide tailored psychological support to clinical departments/divisions at NewYork-Presbyterian affiliated hospitals. The program consisted of over 60 volunteer liaisons who led 1,076 town hall meetings with approximately 6,131 attendees. A manuscript on this work is in preparation.
Currently, PATSS provides care for healthcare workers and other occupations, such as police, firefighters, and disaster workers, as frontline workers have occupational exposure to a range of experiences which put them at risk for PTSD and psychological distress. PATSS provides free treatment through clinical research for frontline workers who worked during the COVID-19 pandemic and/or have been exposed to occupational-related trauma.
 Research Studies for Healthcare Workers:
1. Piloting Virtual Reality Environments to Treat PTSD in Healthcare Workers and Patients Consequent to the COVID-19 Pandemic.
This study uses a virtual reality platform to treat healthcare workers and COVID-19 patients who develop PTSD resulting from their experiences in the COVID-19 pandemic. The pilot study will aim to demonstrate the feasibility and the tolerability of the virtual reality intervention in these populations.
For more information on this study, click here, or please contact: 212-821-0783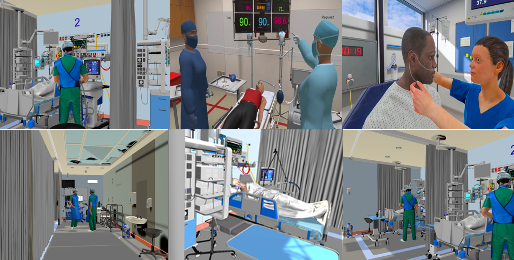 2. A Brief Phased Two-stepped Intervention for Treating General Psychological Distress, PTSD, and Co-morbidities in Healthcare Workers Consequent to the COVID-19 Pandemic,
In addition to PTSD, it is also expected that large numbers of healthcare workers will experience a broad range of psychological reactions such as symptoms including anxiety, depression, moral distress, and trauma symptoms that can cause both significant suffering as well as occupational and social impairment. We have also developed a remote study using medical music and narrative writing. The study aims to implement a scalable, stepped two-phase intervention program for traumatic stress in healthcare workers who have cared for COVID-19 patients.
For more information on this study, click here, or please contact: 212-821-0783. 
Or, see if you're eligible here!